Main categories of parts...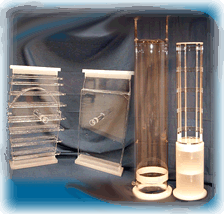 The icons shown to the left link to information about the main product groups produced by Wacom Quartz. Select any of them or contact a sales engineer to find out more information about our products.
Wacom Quartz does not design quartzware, we build strictly to the customers' designs on a "build to order" basis. We are happy to provide consignment of our products, either at our location or yours with appropriate contractual agreement.
Your assigned sales engineer may suggest changes, based on past experience with similar products; or our general glassblowing, welding, and machining knowledge. Any such suggestion would be within confidentiality or patent limitations of other current or past customers. Wacom Quartz has a privacy policy and business ethics that we take seriously.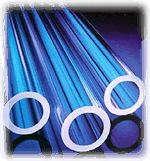 We are also an authorized distributor for Momentive (formerly GE) Quartz tubing and rod. Several raw materials in various sizes are kept in stock and available in single piece quantities (you are not required to buy an entire crate or box-full).