Computer Aided Design (and Drafting) Services
Wacom Quartz owns and uses recent versions of both AutoCad ™ and SolidWorks ™ CAD and 3D Modeling software that we use to create internal designs for graphite fixturing and quartz torches. Our Plant Engineer has been using AutoCad for more than 12 years.
We gladly offer this service to our customers in the form of contracted CAD drafting. If you have a part* (quartz or other materials) that you need a detailed drawing of, or if your own drawings need changes in preparation for us to build parts to your new design; we would be glad to create those drawings for you.**
This service can be included in the price of a new product, or billed separately. Contact a sales engineer for more details.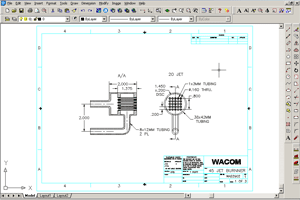 *Note our refusal to bring glass products into our plant which have been exposed to dopants or other processing chemicals, without certified decontamination off-site first. This especially applies to copper; no copper parts or glass products exposed to copper containing depositions will be accepted for inspection or repair under any circumstances.
**Please read the Wacom Quartz Privacy Policy page for more information on possible restrictions to what parts we will create drawings for.