ETCHTEK Tanks and Baths
Wacom Quartz is a manufacturer of constant temperature quartz baths used in industries where purity and consistency are demanded. Industries such as the manufacture of semiconductors; solar panels; and many research and development applications require high purity standards that must be met and maintained as well. We have answered that critical demand with our Etchtek line of constant temperature baths for high purity processing. Our design is a unique custom molded bath which insures reliability every time. And each bath is given the utmost attention to detail to meet strict quality control standards.
Wacom Quartz is also in partnership with Ward Technologies Inc., a key supplier of process equipment and components to the semiconductor, bio-med, medical, research, and other high-tech industries. Our line of high-reliability wet stations meets the needs of the most demanding chemical processes. These wet stations are available in a wide range of materials including Polypropylene, FRPP, PVDF and Stainless Steel.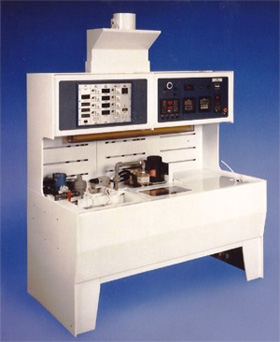 Regular Tanks
Wacom Quartz fabricates two main types of "regular" tank products; Welded or Pre-Formed. Welded tanks are simply made from 5 pieces of plate, with or without handles and a drain. Pre-Formed tanks are produced by taking a molded bottom section and welding on one or more flange and drain features. All tanks are designed by you, the customer, and delivered free of stress after annealing. We are capable of producing any of these type tanks in sized up to 48 x 60 inches or larger. Contact a Sales Engineer.
Tanks with Integral Plumbing
A slightly more complex form of tank is a welded or pre-formed tank with quartz plumbing inside or outside permanently attached. This can take the form of heating or cooling coils, gas manifolds, valve assemblies, or any other configuration the customer wants.
Double Walled Tanks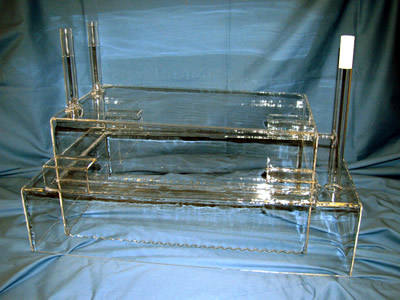 The most complicated tanks we have built (to date) involve double walls for containment of spills or catching intentional liquid overflow. The larger this type of tank is, the harder to produce without cracking. Our master glassblowers have successfully produced tanks of this type up to 48" x 50" x 24"in the past. With that much raw material at stake, you want a quartz fabricator who can complete the job correctly on the first try!