Acid Distiller / Condenser / Re-boiler
Athens ™ and other brands of acid recirculation systems utilize large and sometimes complex vertical quartz tubes to perform these three major process steps. We have experience building several types or can produce yours to your technical drawing, contact a sales engineer.
Process Tubes
Wacom Quartz fabricates dozens of different types of process tubes for SVG ™ Thermco ™ and other OEM systems, as well as one-off designs for specific end users. These can be single or double walled, with or without attached plumbing, and in many flange configurations. We have the capability to work with tubing diameters up to 660mm and flanges slightly larger.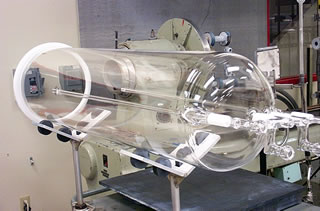 Wafer Carriers
Vertical wafer carriers come in many sizes and designs, from 100 to 300mm and larger; AVP, RVP or custom designed, with straight or angled slots. If you are looking for an OEM spec. carrier we probably already have the fixturing and CNC programs to produce it; thereby reducing lead time and cost.
Pedestals
The pedestal or heat baffle is an integral part of vertical processing systems, and we make several varieties. Open fin, sealed baffle, quartz-wool stuffed, or hybrids.
Plumbing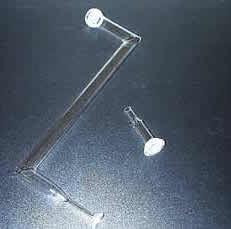 Depending on the specific system being installed, the quartz plumbing on the top or sides of the process tube can have very tight dimensional tolerances. We work with our customers to fully understand the intricacies of this sometimes overlooked component, and build these parts with the same quality and attention to detail put into larger products.
Thermocouple Wells
Many systems were designed with, or have been modified by the end user to use removable TC wells. Let our sales engineers know what you have in mind for customizing this part, or have us make one to your finished drawing.