Clean> Dry> Package
The clean room at Wacom Quartz certifies semi-annually to ISO Class 6 (FED STD 209E "Class 1,000") and meets weekly particle counts better than ISO Class 5 (class 100.) It is spacious enough to process all but our largest products through these operations:
Acid Washing: Full immersion in 3-5% HF bath.
Rinse: Immersion and/or spray rinse with DI water of 15.0 megaohms or better at point of use.
Dry: Nitrogen purged, 100°F recirculating filtered drying cabinet, designed to hold common products.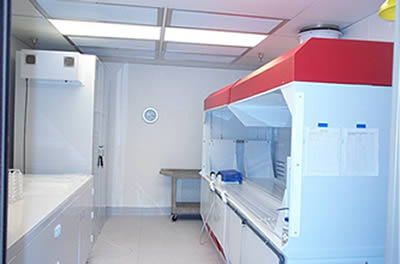 Packaging: Double bagged, 4 or 6mil poly sleeving. Nitrogen purged and (optionally) vacuum sealed; with cleanroom certified labels printed and applied per customer specification.
Clean room processing can be the final step in the production process, or can be contracted as a service for cleaning quartz parts purchased elsewhere. Contract service customers will be asked to certify that parts sent for cleaning are "virgin" and never run in a system with process chemicals. This is not a decontamination process for used quartzware, contact your sales engineer for more details.