Coordinate Measuring Machine
Wacom Quartz's inspection department uses a Brown & Sharpe "Excel" CMM equiped with the latest PC-DMIS® Pro control and measuring software. This machine is capable of measuring quartz (or other) parts as large as 27" x 39" x 27" with accuracy as fine as .00002". Our climate controlled (class 10k clean room) QC department conditions allow this machine to consistantly stay within calibration limits, with better than .00014" repeatability.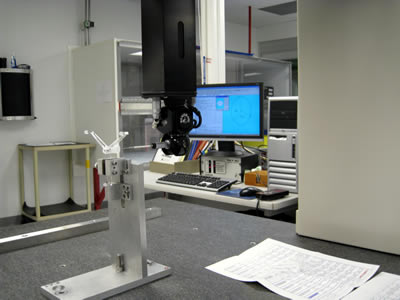 The combination of feature packed control software and experienced programmers allows us to prepare easy-to-read reports for our customers. We can also keep electronic records of every part inspected on the machine, when asked to do so on a purchase order and associated production job.
CMM inspection is included in the price of all manufactured parts when the drawing's dimensional features or tolerances require it, or as a customer specification during the contract review process.
Wacom Quartz would also be glad to use our CMM to contract inspection on your R&D, modified, prototype or other customer-owned parts; be they quartz, some other type of glass, ceramic or metal.* Our inspectors are experienced in handling and measuring very delicate, sometimes very heavy, and often very expensive parts without breakage or cosmetic damage. Contact a sales engineer with your request for quote.
*Note our refusal to bring glass products into our plant which have been exposed to dopants or other processing chemicals, without certified decontamination off-site first. This especially applies to copper; no copper parts or glass products exposed to copper containing depositions will be accepted for inspection or repair under any circumstances.